At our exclusive event in Melbourne today a distinguished panel including John Bertrand AO, Rick Baker from Blackbird Ventures, Samantha Wong from Startmate, Didier Elzinga from CultureAmp, Jon McCormack from Monash University and I discussed the arc of the Australian Technology Industry which is in the middle of an amazing renaissance. Here are some highlights from the discussion.
CREATION WINS.
The history of technology repeatedly demonstrates that creation wins. Every product or service we love exists because a legendary entrepreneur (and their investors) had an insight into an unsolved problem or market missing. And he or she didn't sleep until they solved that problem. It haunted them.
These entrepreneurs figured out a way to solve that problem and along the way they created an insanely great product, a legendary company and a killer category that changed the world.
REGIONAL CATEGORY KINGS
If you look at the value creation by tech companies in Australia over the past 30 years you find a landscape dominated by a number of regional category kings.
Companies that took a category created in other parts of the world and adapted it to their local market. Its been an outstanding success in Australia. Companies such as REA, SEEK, Carsales, MYOB and ComputerShare have created $20 billion (USD) in public market cap (See graphic 1). Its impressive.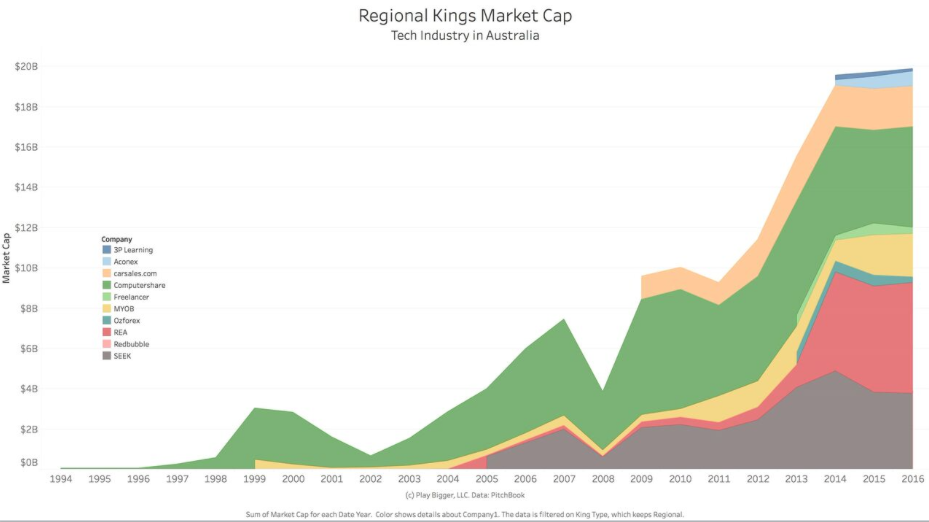 Graphic 1. Regional Kings.
In addition, many Australian regional kings such as Wotif (acquired by Expedia), Menulog (acquired by Just Eats) and Stayz (acquired by HomeAway) were acquired by global category kings for a few more Billion dollars (See graphic 2). These entrepreneurs created legendary products, companies and adapted categories to meet the needs of Australia, New Zealand and sometimes APAC.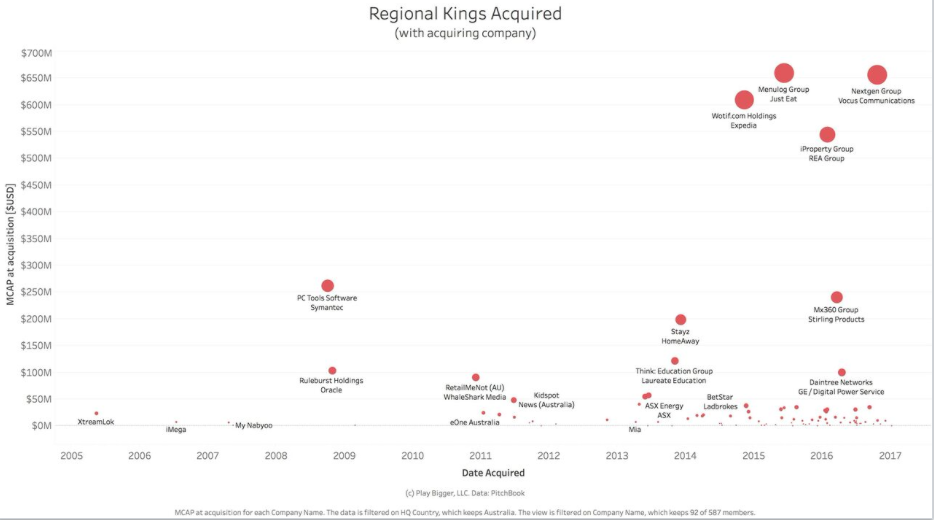 Graphic 2. Regional Kings acquired.
We salute these legendary entrepreneurs and the Investors who funded them. Without their driving passion, the foundations for the Australian tech industry wouldn't be so strong.
GLOBAL CATEGORY KINGS
With the emergence of the Internet, the world became inherently global. And some of our Australian entrepreneurs not only built great products and companies but they were created as "global first". They focussed on the world as their market. To achieve that they undertook a new business discipline we call category design in pursuit of becoming a truly global category king.
There were a couple of "blips" on the radar in the late 90's with Looksmart and Quokka Sports who were the first Australian companies to list on the NASDAQ. In 2016 the first truly global category king emerged from Australia — Atlasssian (see graphic 3).
This event marked a dramatic turning point in Australia's history. Not only could Australia adapt categories for their region but these entrepreneurs demonstrated that they could actually create a global category. In the process they created more than $6Bn (USD) in new value for investors, employees and the broader ecosystem.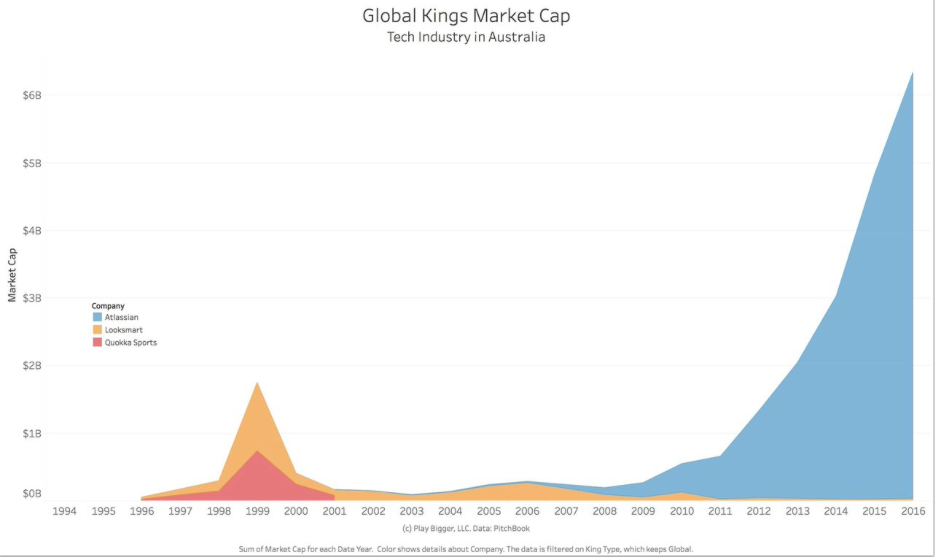 Graphic 3: Global Category Kings
AUSTRALIAN VENTURE CAPITALISTS EMERGE
Perhaps as important as the money, Atlassian's success catalyzed the Australian Technology Industry. Its something I have personally been waiting for…
The Australian Venture Capital industry now had a giant "Moose on the hood" (as they say in Canada) and a group of local entrepreneurs learned what it takes to compete on the world stage.
This knowledge, experience and culture is now fundamentally changing the tech ecosystem in Australia and thats so very exciting.
Exciting for entrepreneurs, investors, employees and the country as a whole. As a result, leading VCs are able to raise significant funds and make investments in some emerging global category kings (See graphic 4). Companies such as CultureAmp, Zoox, Nura and a many more.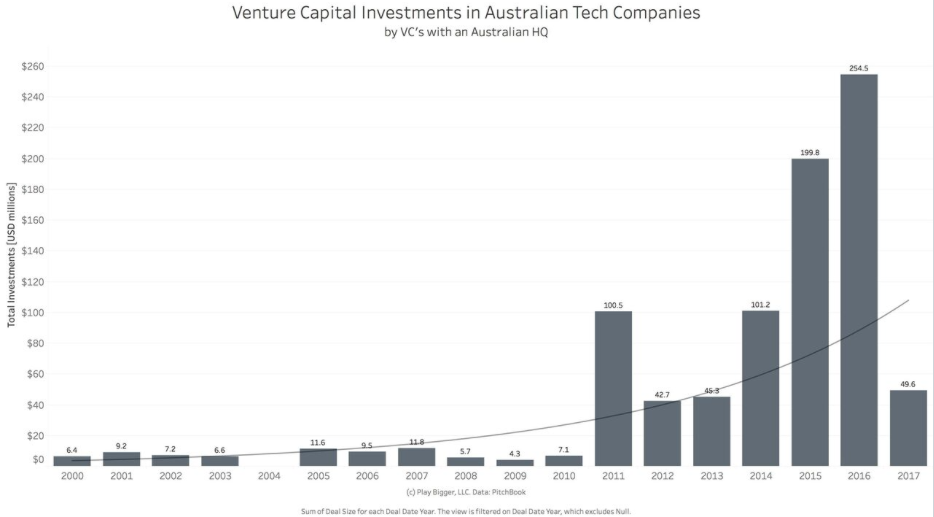 Graphic 4: Investments in Australian companies by Australian VC's
Like their counterparts in Silicon Valley these entrepreneurs had to master product design and agile. They have to become legendary at Experience Design and Company Design. But as global pioneers they also need to learn this new discipline of Category Design.
Category Design is the discipline of creating, developing and ultimately dominating a technology category. Some of the greatest entrepreneurs of our time have used it to create categories from Frozen Food to Social Networks to Energy Shots to Customer Relationship Management. They spend as much time evangelizing the problem as they do explaining the ramifications of the problem, a vision for the future and the outcomes their users and customers can expect. they become the thought leader and the 'face" of the category. Think Benioff with the Cloud, Bezos with online retail, Zuck with Social Networks and more recently Communication. And now Atlassian founders Scott Farquhar and Mike Cannon-Brookes with Team Collaboration.
It is indeed an exciting time in the Australian Technology Industry and Play Bigger and Out Position are delighted to be part of it.
If you are interested in learning more about Category Design you can read our book "Play Bigger: How pirates, dreamers and innovators create and dominate markets" available at these leading book retailers: