Winning today isn't about beating the competition at the old game. It's about inventing a whole new game—defining a new market category, developing it, and dominating it over time. You can't build a legendary company without building a legendary category.If you think that having the best product is all it takes to win, you're going to lose.
In this farsighted, pioneering guide, authors Al Ramadan, Dave Peterson, Christopher Lochhead, and Kevin Maney rely on data analysis and interviews to understand the inner workings of "category kings"—companies such as Amazon, Salesforce, Uber, and IKEA—that give us new ways of living, thinking or doing business, often solving problems we didn't know we had.
In Play Bigger, the authors assemble their findings and explain how companies can use category design to create new demand where none existed and conditioning customer's brains so they change their expectations and buying habits. While this discipline defines the tech industry, it applies to every kind of industry and even to personal careers.
Crossing the Chasm revolutionized how we think about new products in an existing market. The Innovator's Dilemma taught us about disrupting an aging market. Now, Play Bigger is transforming business once again, showing us how to create the category itself.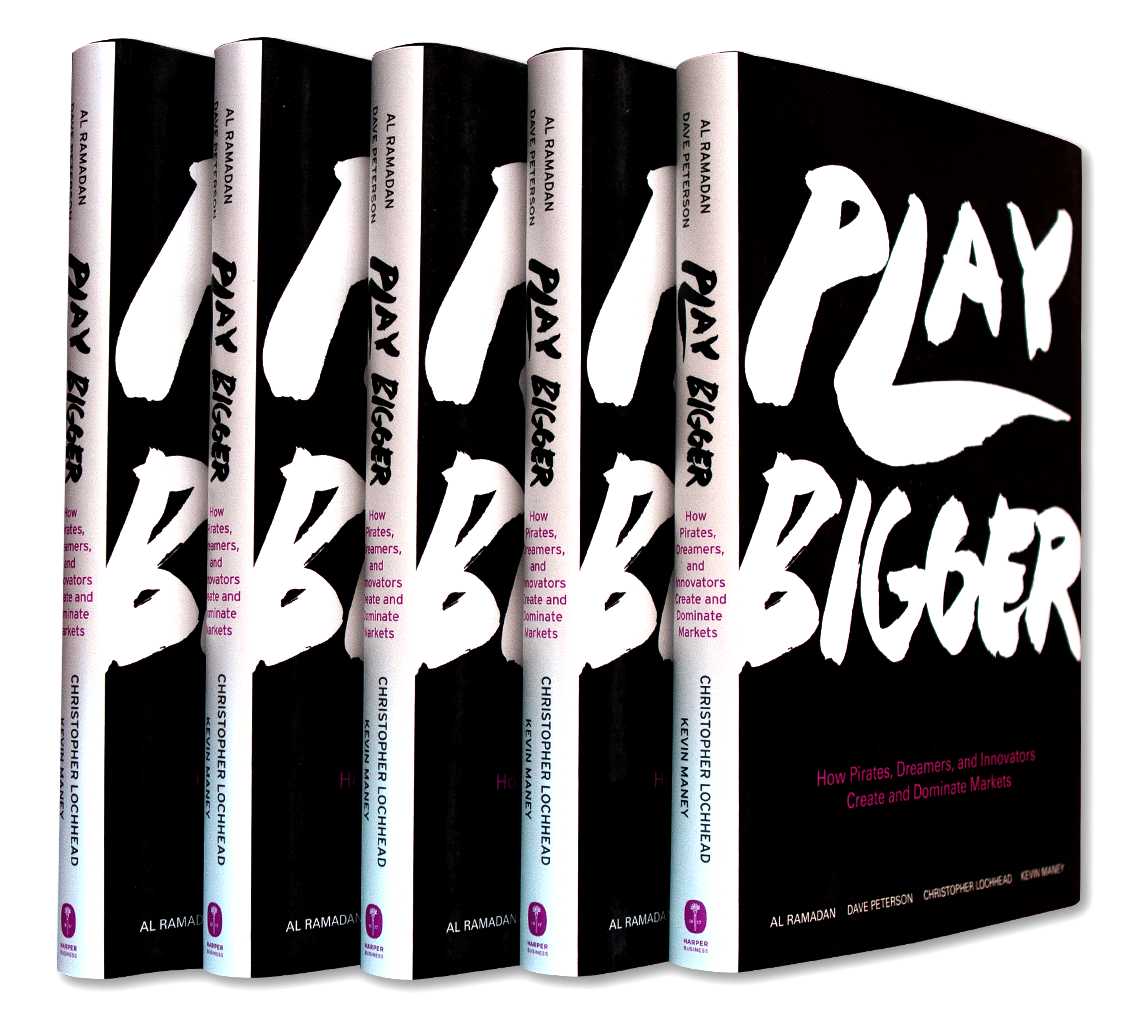 Bestseller in the top 3% of business books sold.
"Every entrepreneur looking to alter the landscape and every CEO looking to reimagine their business can learn from this book.
Play Bigger provides inspiration and a framework for building companies that transcend gravity"
Marc Benoiff
Salesforce
"Play Bigger is the new how-to-guide for entrepreneurs and executives who want to build legendary, enduring companies."
Jim Goetz
Sequoia
"With fascinating examples and thoughtful analysis, Play Bigger shows that any organization - or individual - has the power to be a "category king" by defining a new market and then dominating it.
This should be required reading for anyone who wants to stand out in a crowded world."
Tina Seelig
Stanford University

The Play Bigger Book is available from these retailers :
The Lightning Strike Mobilization Kit
Our Lightning Strike Mobilization Kit is a practical field guide to the execution phase of category design. The Kit is specifically created for the person assigned to plan and execute their company's first lightning strike and will also help various members of the strike team understand all the moving parts of lightning strike planning, mobilization, and execution.