We Are Category Designers
Bianca Valenti is a professional big wave surfer, Italian wine specialist and Changemaker. She plays to win. And her victories extend beyond the water. She's recognized as a champion for winning equal pay and access for women in professional surfing. Bianca is Play Bigger's first Category Design Brand Ambassador, and she developed the Women's Big Wave Surfing category alongside three of the world's top female big wave surfers.
Possessing a rare ability to navigate risk with remarkable composure and elegance, Bianca breaks barriers in and out of the water. Named one of Outside Magazine's Most Accomplished Athletes in 2018 (alongside climber Alex Honnold and tennis champ Naomi Osaka), her surfing performance and advocacy work has been highlighted in the New York Times Magazine, BBC World News, ESPN, Surfer Magazine, and the San Francisco Chronicle, among other outlets.
As a Category Designer, entrepreneur, public figure and leader, Bianca selectively works with partners who stand for excellence, environmental stewardship, equality and equity.
She volunteers with Brown Girl Surf and MeWater Foundation to ensure the next generation of female surfers can experience the stoke and awe-inspiring power of the ocean. And as an ambassador for Save the Waves Coalition and Sustainable Surf she contributes to ocean-positive, surf ecosystems at home and abroad.
When not tackling Mt. Everest-sized waves, Bianca hosts wine tastings as an Italian wine specialist. A graduate of UC Santa Barbara with a bachelor's degree in Global Studies and Sports Management, she went on to study with the Association of Italian Sommelier to become an Italian Wine Specialist. She co-owns Valenti & Co Ristorante Vinobar in Marin County and lives in San Francisco, where she can be found surfing two notoriously scary big wave breaks -- Ocean Beach and Mavericks.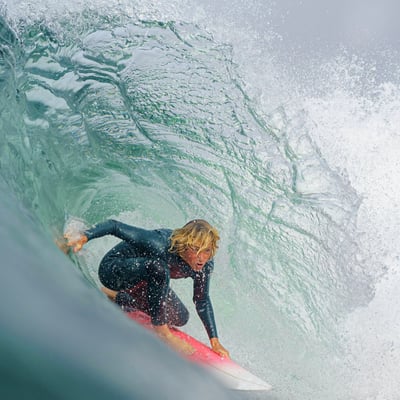 Adam Bartlett is a talented 14-year old surfer from Westside Santa Cruz who comes from a family full of surfers. He's well-travelled for his young age, having already visited and surfed exotic locations like Costa Rica, Hawaii and Ireland. He was chosen for the prestigious USA Surfing Olympic Developmental Team in 2021/2022 and is a highly-ranked amateur competitor both locally and nationally. Adam can count World Championship Tour pro surfers Kolohe Andino and Nat Young as influential mentors and friends, both of whom serve as great role models and remind him to work hard, stay humble and have fun as he pursues his dream to become a professional surfer one day.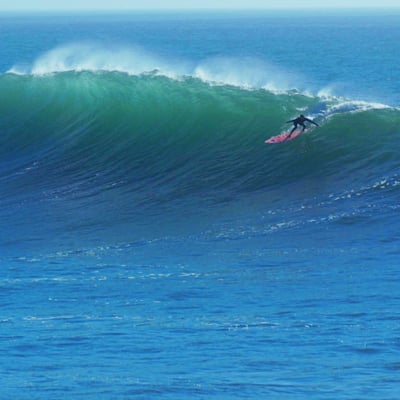 At just 18 years-old Keanna Miller is already an accomplished surfer with a fiery competitive streak. She is currently a 4-year member of the prestigious USA Surfing Olympic Prime Team
program, has won two NSSA West Coast titles, won a WSA Open Women's title, and now competes against the best young female pros in North America on the World Surf League's Qualifying Tour.
As a
goofyfooter she has used the long right walls of her home surf spot — Steamer Lane — to craft a lethal backhand attack that serves her well both during competitions and when she's just out surfing for fun with her ex-pro surfer Dad, Bud and Mom, Amy. Now a 5-time Swellies Awards winner for Favorite Surfer Woman/Girl, she's proud of her Westside Santa Cruz roots, loves the ocean, and recently became a web spokesperson for the Monterey Bay National Marine Sanctuary.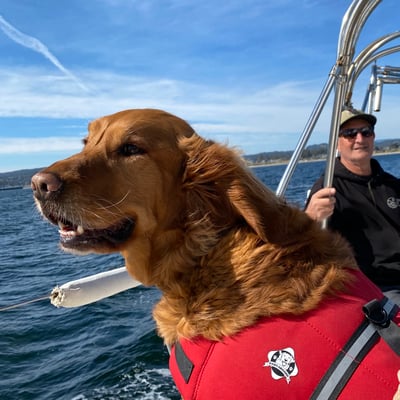 Ruff,
I am Tobi and I love the snow and the water so much that I am Play Bigger's Mascot! When I'm not barking on Zoom calls, I love to sail the seas with family.