The Category Design Method
Over the past decade, we have engaged with dozens of companies from early seed to public. We have learned that our Category Design methodology needs to be adapted to both the stage of the company and the team executing on the opportunity.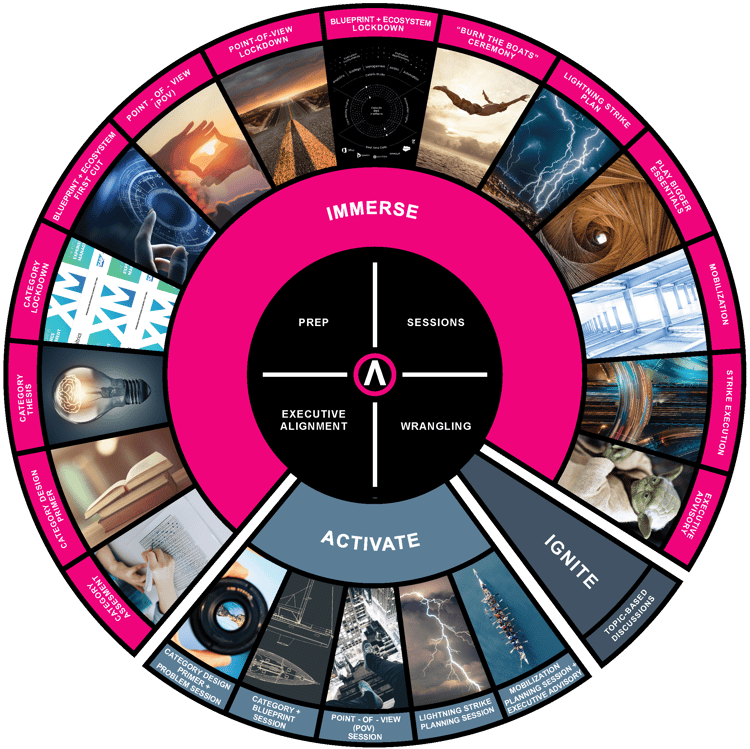 Category Design Method Options
We offer three fundamentally different options to founders, CEOs, and investors, all built around our Category Design process.
1. IMMERSE
2. ACTIVATE
3. IGNITE
play bigger option 1
Most Popular with Series D and Later
Play Bigger IMMERSE is our full-service category design methodology which includes all the necessary steps and deliverables to define, develop and dominate your category. It is well-suited for more mature companies.
With IMMERSE, we will become an integral part of your executive team for the first six months of your category design journey. Think of us as an extension to your team during this period. Once we get through the first Lightning Strike, we will remain a committed advisor as your company considers new growth opportunities, financing events, and strategic acquisitions.
play bigger option 2
Popular with Series B & C
Play Bigger ACTIVATE is our agile category design methodology which includes the necessary steps and deliverables to define, develop and dominate your category. It is well suited to early-stage companies.
ACTIVATE is about getting a category defined in a matter of months. It's a fast-paced series of workshop sessions focusing on key questions that force tough decisions and thoughtful follow-up work by you and your team.
ACTIVATE is also about training a member of your executive team to become a category designer and how to run the Play Bigger category design methodology. We call this role the Category Design Lead. It's real work, it's exciting and it's challenging. It's as much about the actual work products as it is about moving your team to a new way of thinking and executing.
play bigger option 3
Guided Methodology Designed for Seed to Series A Enterprises
Play Bigger IGNITE is a highly structured three-month engagement designed to provide early-stage companies with everything they need to define and dominate new categories. Through a series of highly collaborative working sessions, enterprises develop category problem statements, solutions and category names, blueprints, points-of-view and initial lightning strike plans. These are exactly the same core elements every Category Design project focuses on, but they are created on a shorter timescale with fewer rounds of revision.
With IGNITE, enterprises identify an internal Category Design lead to partner closely with a lead
Category Designer from Play Bigger. Through frequent connections and collaboration, we develop initial drafts ahead of workshops, and help refine and synthesize artifacts following those workshops. In the process, the internal Category Design lead gains a deep and useful understanding of Category Designer, while pushing their enterprise to make the decisions that underpin a powerful new category.
The pace of IGNITE is fast, matching the pace of most early-stage startups which makes it the ideal product for these enterprises. It is purpose built to meet their needs by helping to align teams, clarify a narrative and arm these enterprises with everything they need to establish a category early in their development process.